Amazing video. And that's just the tip of the iceberg. I want you all to watch this incredible talk by neurologist Jill Bolte Taylor.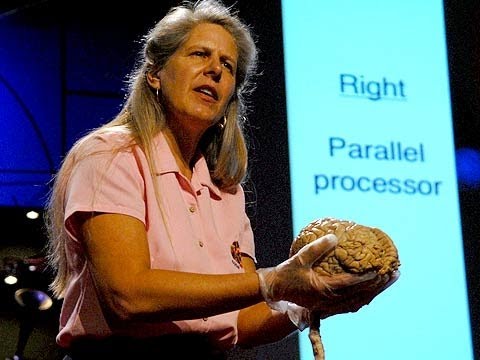 You might've seen her on TV already but she's a scientist who suffered a stroke that while one may find horrible, she took it as a new experience and even a new level of consciousness.
I just wanna quote her here because she says it so much better. This is what she was thinking as she was observing herself having a stroke on an exercise machine:
And it was as though my consciousness had shifted away from my normal perception of reality, where I'm the person on the machine having the experience, to some esoteric space where I'm witnessing myself having this experience… And then I lost my balance, and I'm propped up against the wall. And I look down at my arm and I realize that I can no longer define the boundaries of my body. I can't define where I begin and where I end, because the atoms and the molecules of my arm blended with the atoms and molecules of the wall. And all I could detect was this energy — energy.
Her description of what she went through during the stroke seemed more like a spiritual journey, enlightenment or even Nirvana than a tragedy and through all this trauma she discovered two versions of herself. Absolutely amazing and you'll definitely rethink the way your mind works, maybe even discovering your 2 versions within your subconscious.
What kind of spiritual journey, enlightenment or Nirvana have you experienced? Share your stories with the community in the comments below.